Technology products and solutions for healthcare industry
Comprehensive and all-inclusive services, designed to change the perspective of providers & treatment seekers, towards technology solutions within healthcare system. Our products are easy-to use which can be accessed even by a non-technical person. We provide services, products and solutions which cannot be procured from a single vendor. We also provide you with all the integrating/missing tools required to connect one product with another.
We have a comprehensive set of health-tech software solutions and products. Our software modules have all the utilities required for efficient and productive working of the hospital system. We bring all vendors, along-with best possible quality & price options, on our platform, making it easy for buyers to make an informed decision.
Read More….
---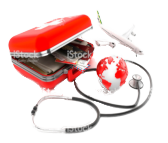 Global Health Tourism Industry
eHealthFlex provides you with 'global outreach' solutions required for your medical journey. We aim to give an optimum solution to health-travelers as well as healthcare providers. Our end-to-end solutions assist the medical traveler and guides them throughout their medical journey. We offer a complete package, enabled by technology solutions, to make your treatment journey hassle-free and most productive.
The medical tourism solutions we provide are end-to-end, with features that simplify the journey of medical-travelers. Utmost care is taken to meet the medical needs of the patient traveling abroad. We assist the medical-tourist throughout their treatment journey. Doctor/Facility selection, Travel plans, Logistic options, Language interpreter, Insurance & grants availability, local laws & compliance along with expert opinion at every stage makes our service special.
Read More….
---
The Platform- 'Beats'
Our vision is to become the top 'aggregator platform' of healthcare product & service providers globally, taking care of every stakeholder's requirement. Our flagship products will set the path for bringing other complementing products/solutions on this platform, as we move ahead. We reinvent and manage the most essential business processes with a creative and unique way of product delivery.
Beats is an aggregator platform which brings together all providers, vendors, equipment & device suppliers within healthcare domain. Every entity is connected through a common thread and technology tools make sure of a transparent & highly productive engagement among them. We offer services to providers (Clinics, Hospitals and Wellness Centers) as well as general population.
Read More….